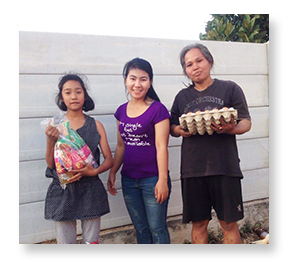 Families like these from fatherless homes are being reached in four locations across Thailand. Many of them are living in rural Thai villages where there is very little or no Gospel witness in their communities.
Through our Families Without Fathers (FWF) project, our Firstlight Area Teams are bringing hope to families like these through weekly visits to the homes and area schools. School fees and related supplies are being provided for every child involved in the program.
In some cases like these, this family has just received a monthly care package of fresh eggs, dried noodles, canned fish, salt, soy milk, and cooking oil. A huge help to those in need!
Please keep the FWF project in your prayers in 2018 and in your financial commitments to Firstlight. Our goal is to open up this project in two new locations this year and reach more kids! The Father's love for them is great!


~ Dan Ecker