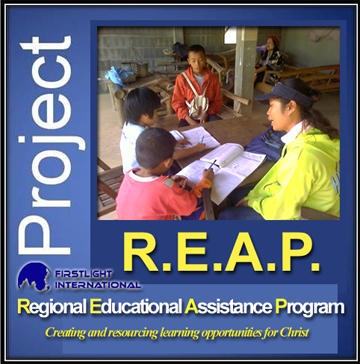 REAP – Regional Educational Assistance Program
An Educational Assistance Program of Firstlight International in Thailand.
Purpose: To create and resource learning opportunities for Christ.
Objectives:
–    To provide educational scholarships to children, high schools & university students from poor families.
–    To provide volunteer foreign English Teachers for Thai schools: elementary, high schools & universities.
–    To create children and adult learning opportunities in local Thai communities offering courses in English, Computers & Music.
–    To start English Learning Groups for students offering to tutor Thai students with their English homework.
–    To offer a Life Skills Development Mentoring Program to children, young people, adults and families who live in poor, low income areas.
Project requirements:
All programs or projects of REAP must meet the following criteria:
1.    Regional – it must fit into one of the four main regions of Thailand.
2.    Educational – it must be in some form educational assistance either financially or providing teachers or learning opportunities.
3.    An approved project – it must be a valid project, with a clear stated purpose, with a system in place that helps to measure results and brings accountability.
Financial assistance programs:
1.    File an application.
2.    Go through an interview process.
3.    Have stated purpose for financial assistance.
4.    Have specified amount of financial assistance.
5.    Have length of time.
6.    Supply receipts.
Foreign volunteers:
All foreign volunteers will need to fill out an application, go through an interview process, submit references, and submit a letter from their organization. Firstlight International will work to provide visas and work permits.