A biblical response for reaching children and families for Christ.
One of our core objectives in 2018 is to provide Care For Kingdom Families: A biblical response for reaching children at risk and children and families from fatherless homes for Christ.

* From Fatherless Homes: This is being done through Families Without Fathers, FWF, project and Project REAP: Regional Education Assistance Program with 30 plus children and young adults in four locations across Thailand. Plans are being formed to place these projects in several Thai churches in at least two new locations in selected areas this year. Project REAP and FWF are proving to be effective for bringing Christ into fatherless homes, area schools, and in some cases universities. School fees and related supplies are being provided for every child involved in these two projects.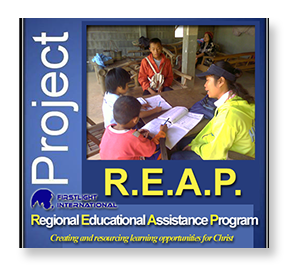 * Reaching Children At Risk: In Myanmar, we are partnered with some amazing people in Lishio, at the Harvest Children's Home. Luke and Jennivive (our project host couple) and a core of 10 national church planters, are providing care for 40 plus children at risk and they are preaching the Good News of Jesus in over 48 villages of the Pulang. Regular trainings and water baptisms are taking place.


~ Dan Ecker